(Click the Sigma Xi Epsilon Banner to go back to the Welcome Page)
---
Joe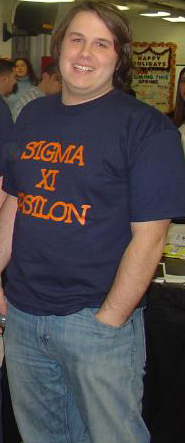 Name: Joseph Pugliese
Nickname: Pugs/Poo Poo Face
Number: 1
Pledge Class: Founder
Position(s) Held:
Occupation: Stop + Shop, Pat-Med
Current Year: Junior
Birthday: March 28, 1985
High School Attended: Pat-Med
Major: History/Secondary Education
Hobbies: Sports, music, and chillin
Favorite Memory(s) of St. Joe's: The OT Overnight, Ski Trip 05, Sigma
Favorite Music Group(s): Head Automatica, Brand New, pretty much anything
Favorite Quote(s):
"Carpe Diem"
"I gotta live for today because tomorrow ain't promised to me."
"If I could I would shrink myself and...but I am too weak to be your cure.."
"A beautiful girl can make you dizzy, Like you've been drinking jack and coke all morning. She can make you feel high, Full a single greatest commodity known to man, Promise, promise of a better day, Promise of a greater hope, Promise of a new tomorrow, This particular aura can be found in the gait of a beautiful girl. In her smile & in her soul & the way she makes every rotten little thing about life seem like it's gonna be ok..."