(Click the Sigma Xi Epsilon Banner to go back to the Welcome Page)
---
Richie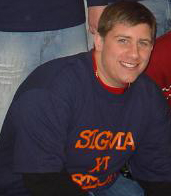 Name: Richard Palilla
Nickname: The Don
Number: 11
Pledge Class: Charter
Position(s) Held: Secretary
Occupation: Staples Associate
Current Year: Junior
Birthday: October 30, 1985
High School Attended: Commack
Major: Business
Hobbies: Movies, hanging out with everyone, gambling
Favorite Memory(s) of St. Joe's: Ski Trip '05, Hooters with the boys
Favorite Music Group(s): D-Block, G-Unit, Eminem, Linkin Park, Frank Sinatra, Dean Martin
Favorite Quote(s):
"Keep your friends close but your enemies even closer."
"The saddest thing in life is wasted talent."
"Forgettabout it."
"Put em in the bathroom."